German activist says she lied to police about sex assault perpetrators to avoid 'racial hatred'
Merkel the vatican foot soldier is getting the job done.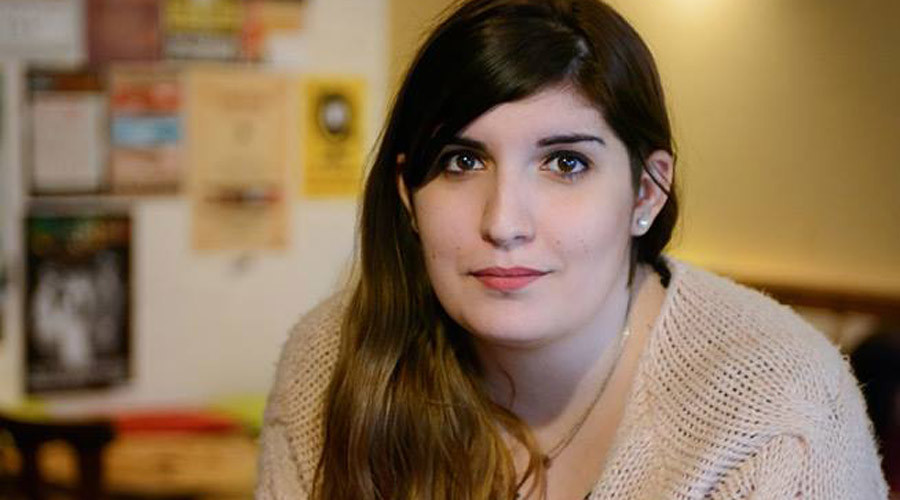 A German left wing youth movement activist admitted that she lied to police about a sexual assault and concealed the ethnicity of her attackers out of fear of provoking "more hatred" against refugees.
She thought about "refugee shelters burnt in the previous months" and wanted to prevent "her story from being exploited by racists," Selin Goren, a national spokeswoman of the Linksjugend Solid movement, an offshoot of the German Left Party, told Der Spiegel.She also admitted that she was infuriated when a police officer asked her whether her attackers had been refugees.
Goren said she was assaulted and raped in January by three men of foreign origin, who spoke Arabic as well as Kurdish or Farsi (Persian) in the German city of Mannheim, where she works as a refugee aid activist. The attackers also stole her handbag, she said.
After the assault she went straight to police but instead of filing a complaint about a sex attack, she only reported being robbed. She also lied about the ethnicity of her attackers, claiming that she was robbed by a "mixed group of Germans and foreigners alike, who spoke German to each other."
Later, as she explained her move, Goren said she had been thinking about the public backlash that refugees and migrants suffered after the wave of Cologne sex attacks on New Year's Eve, when hundreds of women were sexually assaulted and robbed by groups of predominantly migrant youths.
About 12 hours later, her friend persuaded her to go to police and tell the officers the real story by saying that her attackers could also assault other people and adding that another woman had been sexually assaulted in the neighborhood shortly beforehand.
Goren also made her case public on social media shortly after the incident. However, she put the blame on "racist and sexist" German society rather than directly on her attackers. In one of her Facebook posts, she even accused other victims of sexual assaults involving migrants of framing their stories so as to "provoke racist hatred" and thus forcing her to lie to police.
In another post on Facebook, she virtually apologized to "male refugees" for the "racism" and "sexism" of German society. "You are not a problem. You are not a problem at all," she said, addressing refugees and migrants.
"What really hurts me under these circumstances is the fact that the sexist and over the line [incident] that happened to me led only to [a situation, in which] you are subjected to growing and more aggressive racism," she also said in her post.
Now, Goren urges other women not to repeat her mistakes and not to "conceal the truth even if it seems politically expedient." Speaking about how this incident changed her worldview, Goren stresses she still puts the blame for such incidents more on "sexist society" than on individuals.
Goren, who is of Turkish origin, also says that her stance on refugees and migrants did not change generally, although she admits that she is now afraid of Arabs.
Goren's case appears not to have been unique as three schoolgirls aged between 16 and 18 in the city of Kassel located in central Germany said that they experienced repeated incidents of groping and sexual harassment on public transport by migrants for several weeks but would not report them, fearing "to contribute to the discrimination of refugees," local media reported.
The behavior of concealing the truth about such incidents or not revealing the true identity of the attackers "in fact is precisely what provokes public indignation," Christian Pfeiffer, the former head of the Lower Saxony Criminology Research Institute in Hannover, told Germany's Die Welt after the wave of Cologne sex attacks on New Year's Eve.
He also stressed at that time, that an increase in sexual assaults could be a result of the refugee policy that fails to deal properly with a massive influx of young single men, whose status in Germany is unclear.
In order to deal with the problem, one should first start to speak about it as it is, Pfeiffer stressed.
According to German activist group GESA (Active Together Against Sexual Violence), the number of sexual assaults have increased following the massive inflow of male migrants.
"[Sexual] offenders often come from areas with another culture and another vision of a woman," Steffi Burmester, a spokeswoman of the GESA told German media, adding that, after the period of "fear and humiliation" linked to fleeing their homeland, these men "are alone and … are looking for a way to bolster their male self-esteem."
Such behavior "cannot be pardoned or accepted," she added.
'Severe and pervasive': Fox News CEO accused of sexual harassment by ex-host
Former Fox News host Gretchen Carlson has accused the company's chief executive Roger Ailes of sexual harassment and retaliation, saying she was penalized after refusing to sleep with Ailes and reporting "disparaging treatment in the newsroom."
In October 2012 Dame Hogg was to make a ruling which would ultimately cost Ellie her life. She not only overturned the order which had protected Ellie from her parents, but, going far beyond the findings of the Appeal Court, issued a letter effectively granting total impunity for her parents and barring the authorities from taking any action to protect Ellie. The judge ordered Ellie to be removed from the grandparents, who had raised her since she came out of hospital a few weeks old, and returned to her violent father. This was despite his 
previous convictions
for attempted robbery, witness intimidation and assault, as well as having repeatedly lied to authorities during care proceedings. Her grandfather warned the judge that she would have "
blood on her hands"
. Less than a year later, he was proved horrifically right, when Ellie was killed by her father, her head beaten to a bloody pulp. The shock also killed her grandmother, who died on the first day of Ben Butler's murder trial.
Ay Caramba! Madrid Pools Allow Naked Swimming
Good news for takfiris
The winner of the 2015 Miss Great Britain Beauty Pageant, Zara Holland, has been formally "de-crowned" after she had sex with a fellow contestant on ITV's reality show 'Love Island'.
http://sputniknews.com/art_living/20160620/1041628577/miss-britain-tv-sex.html?utm_source=farkexchange
Miss Great Britain "De-crowned" After "Love Shack" TV Sex
The new Miss Great Britain is Deone Robertson from North Lanarkshire in Scotland.
Deone you are on the clock!